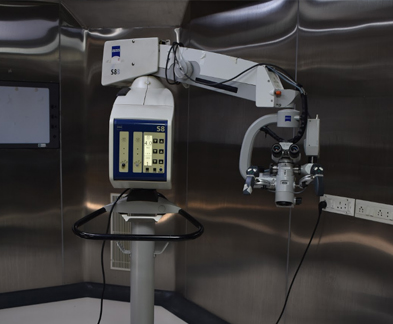 Carl Zeiss OPMI vario s88 surgical microscope ( Germany)
Hand and microsurgery theater
Hand and microsurgery is a relatively new speciality. The St James hospital has developed a 24 hour state-of-the-art facility for comprehensive care of hand conditions and for microsurgery. This is one of the very few dedicated centers for treating hand conditions and for microsurgery in the country.
The hand is a unique area of the human body that is made up of bone, joints, ligaments, tendons, muscles, nerves, skin, and blood vessels. These elements must all be in good working order for the hand to function well. The relationship between all these structures is delicate and refined. An injury or disease can affect any or all of these structures and impair the use of the hand.
To many of us hand may look like a simple structure of our body. But for a blind man they form the eyes; they help him read, for a mute person they form the tongue. For a normal person they help to eat, dress, write, create art, earn a living and do many other activities. To perform such actions hand needs movements and sensation. Co ordinate movements of joints, tendons and muscles along with good nerve function is essential to achieve this. Any disturbance in function of any of the structure can impair the quality of hand function. The impairment can range from constant pain to inability to perform any action. So when a problem occurs to the hand, care is needed to assess each structure and determine the cause of it . Hand surgeons are specifically trained to provide that care.
Be involved in your care and treatment choices
Be welcomed and feel relaxed and cared for
Appreciate the well qualified, experienced team
Want the best surgery available
Mission / Vision
Statement
It is our mission to exceed expectations by providing exceptional surgical care to our patients and at the same time, building relationships of trust with them.
Our vision is to be one of the leading Micro handsurgical centre in the area, expanding our services to reach additional community members. We work to be trusted by patients, a valued partner in the community.
Specialists and Sergents as One Team
Initial surgical Assessment
All Types of Hand surgeries
Safety by Credentials
Orthotics and Prosthetics
3D Imaging Center
On-site Laboratory
After surgery therapy
Complete rehabilitation
Innovative Clinic Design
Complimentary Consultations
Insurance and Financing
Motivation is easy
Our Core Values
Innovation
Embrace change, encourage invention and continually remain at the forefront of advances in oral health for the good of our patients
Compassion
Demonstrate caring and sensitivity for the diverse backgrounds of our patients and colleagues and generosity in our communities
Integrity
Adhere to high ethical and professional standards, demonstrating commitment to our responsibilities with trust, honesty and respect for all